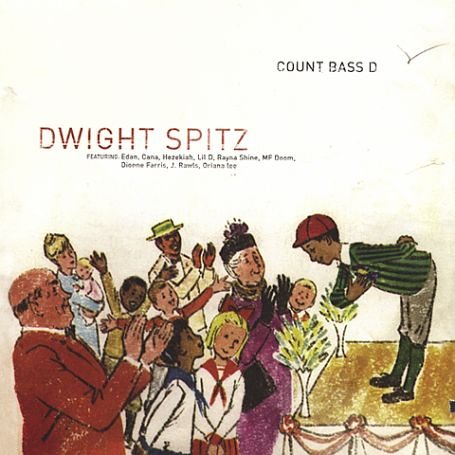 by Count Bass D
Count Bass D is a massively underrated and slept on talent. He is a beat maker and rapper who has been shuffling around the more underground parts of the underground for more than a decade, yet he has received very little recognition, which I always find kind of odd.
Dwight Spitz
, his 2002 album, is a decent piece of music. He produced all of the tracks on the album save one (contributed by J. Rawls), and lays down vocals on roughly half of them. He has a unique flow - laconic and unhurried, with a deep timbre to his voice. His beats remind me a little of MF Doom's style of production, although these are often more pop-oriented.
He is joined on this album by a number of different guests. Doom is on two tracks, although strangely he is only credited with one, but it's clearly him on 'Make a Buck'. Edan shows up, spitting the same lyrics he uses on his own brilliant
Beauty and the Beat
album. MF Grimm drops a verse, and Hezekiah shows up twice, long before he began to make a name for himself. In typical self-indulgent fashion, the Count has his young daughter singing on a couple of tracks, but it's all good, because the beat is pretty nice.
This is not a brilliant album, but it does have some very nice moments, such as on 'Subwoofer (Dumile)', when Dwight raps on his chorus, "I'm not Doom's brother, but I will rock your subwoofer, that's why they call me Count Bass." The album fizzles out towards the end, becoming more varied and a little weak, like it should have ended with the twenty-first track. Still, this is the Count at the height of his game, and it's worth checking out.