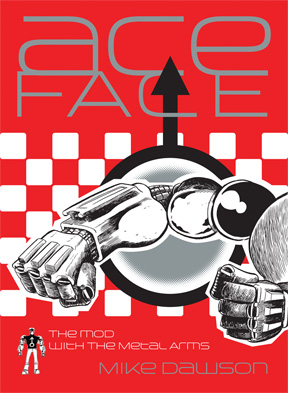 by Mike Dawson
This
would be a good example of a convention impulse buy, based on the fact that I like Adhouse books, the publishers of the amazing
Johnny Hiro
. I'm not sure if the stories in this book were published before in the
Project: Superior
anthology or if this is the first they've appeared, but this work was new to me.
Colin Turney was born without arms, and his strange scientist uncle crafted a pair of metal, super-strong arms for him. Of course, he gave adult-sized arms to a baby, and so Colin had a rough time of it growing up. Once he became fully grown, he fought crime in 60s London, before moving to the US and becoming a college professor.
Ace-Face gives us a few different stories from Colin's life, and they are charming and interesting examples of indie superhero comics. The book also has a couple of stories about 'Son of Ace-Face', Colin's indecisive and easily frightened son, and his exploits dealing with the noisy stoop dwellers of Park Slope. There are also two stories featuring Jack and Max, a pair of super-powered brothers who always fight.
This is a quick, fun read. There's nothing here that is going to stick with me, but it was a nice diversion on a summer's afternoon.