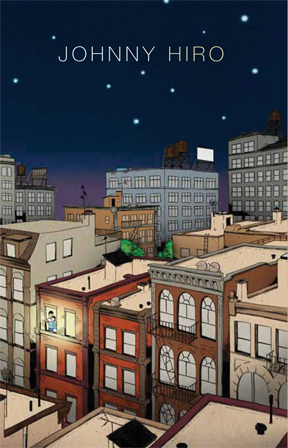 by Fred Chao
I read the first three stories in this collection in their original, single issue format, and was instantly drawn to Fred Chao's charming characters. When I saw that the collected edition had two new stories, as well as some 'deleted scene' style single page stories, I knew I had to pick it up.
Johnny Hiro is 'half-Asian, all hero'. He's an early 20s busboy at a sushi restaurant who lives in New York with his wonderful girlfriend Mayumi. Stuff happens to him. In the first issue, Gozadilla (a Godzilla stand-in) kidnaps Mayumi out of their bed in a bizarre plan for revenge. In the second, Hiro (no one except his parents call him John or Johnny) has to steal a lobster from another sushi restaurant, and is pursued by knife-wielding kitchen staff. The third involves 47 ronin accountants and the Metropolitan Opera. The fourth involves another sea-food related chase across the city.
The final story, which I guess would have been the fifth issue, features the cast of Night Court (with Judge Judy acting as a stand in for Harry) dealing with Hiro's legal troubles, which stem from the damage done to their apartment by Gozadilla.
Chao's stories are whimsical and often sentimental. His humour is easily enjoyed, and the reader begins to really like Hiro and Mayumi. At the core of this book, it is about a young couple struggling to make ends meet in New York. The giant lizards and other strange threats are incidental to the story of their love for each other. At times, Chao's writing may get a little too sentimental, but he clearly loves his characters.
Also of interest in this book is the way in which it is very much a product of New York. The city is as central to the story as it is in a Brian Wood comic. Mayor Bloomberg makes a couple of appearances, and hints at his third term plans (this comic came out before the election). Also on hand, in addition to Judge Judy and the Night Court crew, are Gwen Stefani, David Byrne, Grand Puba, and Coolio.
Chao's artwork is clean and straight-forward, sometimes showing manga influences. The book is a great read, and easily one of the best of 2009.