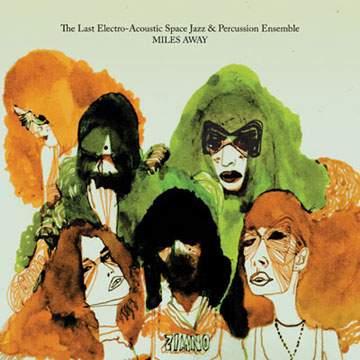 by The Last Electro-Acoustic Space Jazz & Percussion Ensemble
The first thing that needs to be mentioned in discussing this new, ten-track, hour-long jazz album from Madlib (yes, it really is the year of Madlib) is the incredible work the design department at Stone's Throw has done in packaging this cd.
The disk comes in an over-sized piece of folded cardboard, designed to resemble the classic lp's of yore. the cover feature a couple of paintings that conjure up the classic jazz age, although are somewhat modernized. The actual disk comes in a paper sleeve, that on one side advertises other Madlib/Yesterday's New Quintet jazz releases (some of which I don't think exist), while the other side has advertisements for such things as 'Giant Breasts!', the 'Grow Master Pump', and Spanish Fly.
As to the music itself, it's pretty much exactly what you would expect from another Electro-Acoustic (and so on) album, sounding very much like the
Summer
and
Fall
Suites which were released last year, or like some of the earlier Yesterday's New Quintet releases. It's basically what it's advertised to be: Electro-Acoustic Space Jazz & Percussion.
I don't have the foreknowledge or training to speak with any authority on jazz (or hip-hop, if I'm being honest). I assume from the track titles ('One for the Monica Lingas Band', 'Waltz for Woody', 'Tones for Larry Young', etc.) that Madlib is paying homage to his favorites in the field. Based on the liner notes, Madlib did write most of these pieces, although a few give credit to the person named in the song title (ie., 'Mystic Voyage (for Roy Ayers)').
Regardless of the provenance of each piece, this is a lovely album of serious jazz.