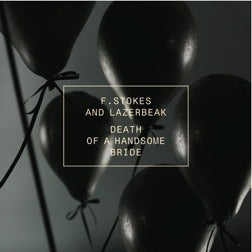 by F. Stokes and Lazerbeak

It is no secret that I am a big fan of Doomtree, and noticed this little project tucked into the bottom corner of their web store one day. Lazerbeak makes some impressive beats, so I figured it was worth the rather small financial risk to give this a try.

F. Stokes is an interesting rapper. He doesn't really fit into the Doomtree aesthetic, reminding me of underground rappers like Buff1 or Finale; cats who put out some nice stuff, but aren't exactly instantly recognizable when a song comes on.

The album starts off with 'Too', a spoken word piece about being too black, too pretty, etc., that does set the tone for this short album. From there, Lazerbeak comes on the scene, and provides him with some pretty standard, if nice, beats. Stand-out songs include 'Blessings', 'Soul Clap', and the prerequisite relationship song 'Pretty Shit'.

The high point of this album is 'So Into You', F. Stokes anthem of optimism, which basically is about his mother's belief in him, and where their shared dreams will lead. The album closes with 'Tickle Me Mars', a club anthem with a very uplifting beat. Usually I hate songs like this, but I found the chorus pretty infectious, and its become one of those songs that creeps into my head at odd times.
I can't really see what the future will bring for Mr. Stokes. He's a talented artist, but doesn't seem to be enough of an individual, based on this sampling, for him to really stand out in an over-crowded music industry. I wish him all the best though...