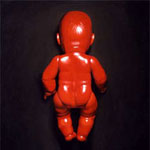 by Blu and Mainframe
Blu has to be the most promising artist coming up right now. For his third album, he has teamed up with producer Mainframe under the name Johnson & Jonson, but Blu is obviously the star of this show.
Unlike the highly enjoyable CRAC release he did with Ta'Raach, the focus with this album is almost entirely on Blu's tight rhymes and incredible flow. He really cuts loose here, and Mainframe seems to know exactly how to back him with nice beats that never try to steal the show.
The stand-out best track for me is the hidden one at the end, which makes use of a John Lennon sample to portray 'instrospective Blu', the persona he used for some of the best tracks on his first album, Below the Heavens. Other high points include 'Up All Night', 'Wow!', 'Long Time Gone', and 'A Perfect Picture'.
I don't know what Blu has in the works, but I am eagerly looking forward to his next album.