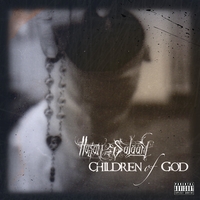 by Hassan Salaam
Hassan Salaam first caught my attention when he appeared as one of the Reavers, contributing some of my favourite verses on what has become one of my seminal albums.
Children of God, his second full-length album, is a good showcase for his versatility and skill as a rapper. His best songs are the ones in which he allows either his spirituality or his politics to take center stage - he clearly has a lot of anger, but he channels it into strong expressions of his beliefs.
The best tracks on this cd are the bonus track, 'Kingdom of Heaven', 'Someplace', which includes excerpts from a film about New Orleans, 'Children of God', 'Best Time to Pray' and '15 Minutes'. His tracks about hip-hop, 'The Uprock' and 'The Downrock' strike me as a little more commercial and frivolous.
Beats on this album are nothing too special. They serve the purpose, but don't stand out in my mind. There are guest appearances by Masta Ace and Lord Jamar, but sadly, none of the Reavers show up. I feel like the album would have been much stronger had it included a track with people like Akir or Billy Woods (every cd would benefit from some Billy Woods....).