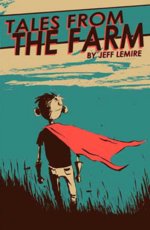 by Jeff Lemire
It took me a while to get around to buying this, but I'm very glad I finally did. Tales from the Farm is about Lester, a young boy who has been sent to live with his uncle after his mother's death. He is your typical small-town comic book reading social pariah - he walks around with goggles and a cape, and prefers to spend his time by the creek battling alien invaders. He builds a strange friendship with Jimmy Lebeuf, a gas-station owner and former hockey player - he played one game for the Leafs before being injured and becoming 'different'.
Lemire's story is told minimally. His characters don't talk much - especially Lester and his Uncle Ken. In this way, they are part of a long literary tradition of mostly silent rural men; actions are what convey emotions. Uncle Ken's offer of going "up to the Dairy Freeze for some burgers" speaks volumes of trying to bridge a gap that neither have the words for. The big revelations in Lester's life are left for him, and the reader, to put together; nothing is ever said.
Lemire's thick, chunky lines set in a wide landscape help to convey the loneliness that the three characters feel. The pages are taut with emotion and longing. This short book is a masterpiece of comics.