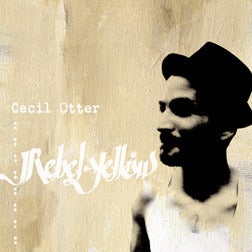 by Cecil Otter
"I've got a closet full of broken legs
And not a one to stand on...."
This year has been about my discovery of the Doomtree collective. Their album was easily one of my favourites of the year, and then I started picking up the solo efforts, and this one blew me away.
Cecil Otter wrote and produced (or co-produced) every track on here, and it's a very consistent and interesting album. It sounds like Doomtree throughout - they have heavy drums and great lyrics, even if there is only one appearance by another rapper - the incredible POS lends a hand to 'Traveling Dunktank'.
The songs meld seamlessly into one another at times, making this an album to be appreciated as an album, not a collection of singles. The songs are poetic and beautiful, and Otter's voice matches the beats perfectly. In songs like 'Box Car Diaries' and 'Rebel Yellow', we get a sense of a marginal artist. In 'Black Rose' the chorus ends with "My name is Cecil fucking Otter/ not Dylan goes electric", and that pretty much sums up the album for me.
There are two instrumental tracks that owe more to drum and bass than hip-hop, yet fit very nicely with the overall atmosphere of the disk.
There are a lot of projects dropping from Doomtree. Mictlan & Lazerbeak have an album out. The new POS is being released soon, as is Dessa' poetry book. People should be checking these guys out - their output is incredible!