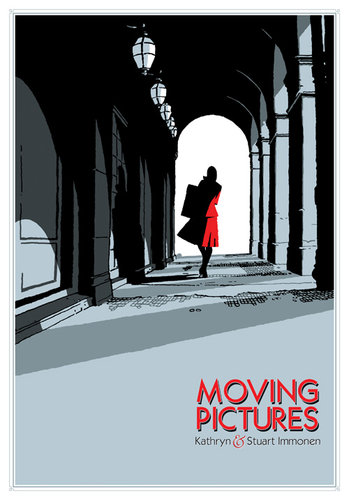 by Kathryn and Stuart Immonen
I found
this graphic novel
from the Immonen's to be a big surprise. I wasn't sure exactly what to expect from this book going in to it, as the creators are best known for their work in superhero comics (Patsy Walker: Hellcat and New Avengers, respectively). Moving Pictures is a very literary book, concerning a young Canadian girl who had been studying abroad when the Second World War broke out.
Ila Gardner now works as a curator in occupied France, attempting to categorize and protect priceless works of art. Rolf Hauptmann is with the German Military Art Commission, and he is also interested in these same works, although he is there to do the bidding of his masters in Berlin. The two develop a conflict-ridden and largely unspoken relationship, their desire for one another smoldering beneath the constraints of their relative political and societal positions, the reality of their unequal footing, and their non-demonstrative personalities.
The story is told across two timelines, and the reader is left to draw his or her own conclusions about exactly what is happening between the two, as they each pursue their own agenda. Paris is eerily peaceful, although Ilsa regularly reports on the sudden disappearances of her neighbours. In many ways, the book reminded me, with it's unspoken emotions and temporal confusions, of Michael Ondaatje's
The English Patient
.
Stuart Immonen takes a cartoonist's approach to the art with this book, rendering the story in minimalist figures and simple backgrounds (except for the scenes wherein works of art are discussed; in these cases, they are displayed behind the central figures). Kathryn Immonen's writing is similarly stripped to the bone, leaving much more room than usual for the reader's imagination and musings.
I would much rather see the pair continue with works like this than their ventures at Marvel, and I appreciate the level of craft that was put into this book.