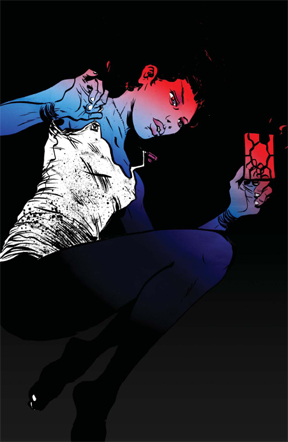 by Paul Pope
I've never read any of Pope's THB comics, mostly because I was sleeping on him when he started the series (I'm sorry to say it), and because they've never been collected.
When my comic store secured a stack of these, which were released with little fanfare at the Baltimore comic convention the other week, I figured it was time to dive in to this series.
Of course, so far as I can tell, this comic, which contains seven short stories, has nothing to do with the main THB series, or if it does, it doesn't matter.
This is a very cool collection of comics, although many of the stories are very ephemeral. In some cases, like the 'tone poem' that makes up the fourth entry in the book, that somehow ties in to the work he has done for DKNY. It's very pretty, but I'm not sure I get it.
Other stories are more straight forward. There's a funny tale of a cartoon mouse and cat, and the film director who is frustrated that their careers have moved them beyond the ability to make good mouse and cat movies. There's a story about a young boy who's interested in David Bowie, and a superhero-like story about El Pollo Diablo the Chicken Devil.
It's nice to see some new work from Pope, and I hope to see more soon. It's probably going to be hard to find this comic, but it can be ordered from the
Adhouse
website. It's worth it. (While you're there, get a copy of
Johnny Hiro
- the best comic they've ever published).