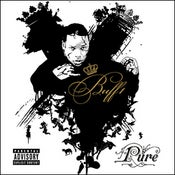 by Buff1
I have a deep affection for underground Detroit hip-hop. There's a recognizably dirty sound that comes out of Detroit. Immediately, I think of Dilla and Black Milk, but other producers have been able to replicate and add to the sound, including the Lab Technicians, who have produced all of Buff1's premier album.
Buff opens the disk with a spoken word piece which, as drums are added to the simple tones he speaks over, becomes a nice rap. Unfortunately, much of the album can't live up to its strong opening, but Buff does deliver in a few places quite nicely.
'Much Better' with OneBeLo and 'SUPREME' with Invincible and Guilty Simpson show that Buff works best with accompaniment; he gets a little dull when left to his own devices. However, if you like some straight-up, Detroit boombap from an emerging talent, you could do a lot worse than this album. What might be lacking in polish is always made up for by enthusiasm. Other guests include Elzhi and Tiffany Paige.